Shogo Ban-Ura
Biography
Born in Nanao City, Ishikawa Prefecture in 1901.
Started lacquer painting in 1912. Now expert in lacquer painting.
Awarded a Japan Art Academy Prize for his work "Shocho" (a metaphysical presentation of the movement of the tide) in 1962.
Completed a grand mural lacquer painting on Gokurakumon Gate of Shitennoji Temple in 1966.
Member of the judging commitee of the Nitten Art Exhibition.
Member of the judging commitee of the Kyoten Art Exhibition, sponsored by Kyoto City.
Object
Title: Sun and Sea.
Dimensions: height 157 cm, width 80 cm.
Date: 1967
Sponsor: Matsushita Electric Industrial Co. Ltd.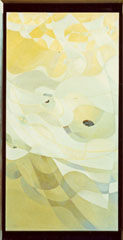 Technique Applied
Lacquer is made permeate the plywood several times. Thus lacquered-plywood is polished up by the polishing paper to come with the canvass. Based upon the rough sketch drawn on the drawing paper of actual size, the materials mentioned above are executed in very complicated and diverse techniques which are entirely new. They are the painter's own expression techniques.
Commentary
The painter has pursued the theme "sea" for these ten years. And recent technological developments made him broaden his art theme to "space" which includes sun.
In "Sun and Sea" the sea converses with the sun, being mingled with each other.
Location in Evoluon
West wing.