Nicolas Schoeffer
Kunstwerk
Title: Object - Movement - Lighting.
Date: 1959.
Dimensions: height 231 cm, width 80 cm, depth 66 cm.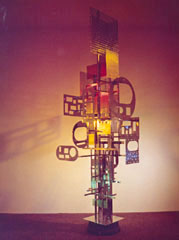 Reproduction of his signature:

Location in Evoluon
Basement at the escalator.
Book About the Artis
Nicolas Schoeffer, Introduction de Jean Cassou, textes de Guy Habasque et du Dr. Jacques Ménétrier, Editions de Griffon, Neuchâtel.